Top 3 Reasons Homeowners Choose Spray Foam Insulation
---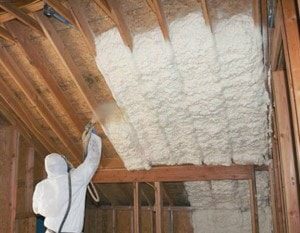 Before making any decisions about your home, it is important to be informed about your options. This is no different when it comes to spray foam insulation.
There are plenty of great reasons you should add this to your home but you need to know these reasons in order to make the right choice for your home.
If you would like to save money on your monthly energy costs, spray foam is definitely the way to go. It is the most energy-efficient alternative around for insulating your home or business. In some cases, you may notice a difference in energy costs of as much as 50%. The additional benefit to this perk is that means going foam means going green. The more energy-efficient something is, the more Eco-friendly it is.
Spray foam insulation is resistant to moisture and mold. This closed-cell insulating material acts as a moisture barrier whereas standard insulation does not. In fact, traditional insulation can be completely ruined by moisture, dampness which can quickly develop into mold.
This type of insulation is long-lasting. It can last indefinitely, without the need for re-insulation. Once properly installed by an industry expert, you can get 20 or more years of peak performance for this extended amount of time.
Bring in the Experts
Goody's Roofing Contractors, Inc. is the name to trust in when you need service like spray foam insulation. We believe in going above and beyond to exceed the expectations of each of our local clients.
We want to be able to provide you with quality service that will enhance your household. Get in touch with us now to get started.
If you're looking for professional roofing contractors for spray foam insulation in Wautoma, call Goody's Roofing Contractors at 920-787-7458 or complete our online request form.