Trustworthy Coloma Roofing Contractor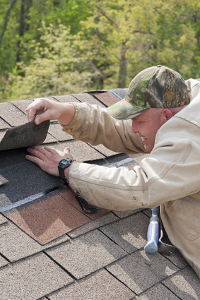 Your roofing is the most important part of the exterior structure of your home, and keeping the roofing in great shape is one of the best ways to ensure that many other parts of your home are kept in good condition. Your roofing is the most important piece of defense that your Coloma home has against weather and the elements, and it's also big part of your home's appearance and its energy efficiency. So when your roofing needs any work at all, it's very important that you hire a roofing contractor you know you can trust to handle the job.
All of the Coloma roofing contractors at Goody's Roofing Contractors are licensed, professionally trained, and extensively experienced, so we can guarantee you the absolute best roofing services possible at all times. Whether you just need a few shingles replaced or you need to have a full roof replacement, our professionals will be ready and eager to provide you with work that you can depend on. We know how important your roofing is to your home, and we don't take our responsibilities lightly.
Call us today with any questions you have about our services, or to schedule your appointment, and we'll be looking forward to assisting you.
What Our Coloma Customers Are Saying About Us
---
The crew removed the old roof and disposed of the materials. New tar paper was installed and then roof was replaced with new roofing and gutter guards were installed. The job site was in another state so I was doing my communications via email and phone. The job coordinator was friendly and very helpful in answering my many questions. (This was my first time negotiating a new roof so I needed some educating). Once we were into the actual work phase, things also went well. The workers were thorough, friendly and cleaned up nicely. Overall it was a very good experience and we were very satisfied with their work and the final outcome was top notch.
– Judy Coloma, WI | Rated: 5/5
---
Recent Articles
Common Signs That You Need Professional Roof Replacement

Is it time for roof repairs? You may notice something that seems off with your rooftop and think you need repairs. However, the truth may be that it's time for replacement, a more extensive, expensive, and labor-intensive project. You don't have to worry about being misled when you work with reputable Wautoma roofing contractors like…

Read More

Snow Retention Systems For Wautoma Roofs

As snow and ice builds up on a roof, it can slide down and fall on buildings, landscaping, building components, people, pets, or livestock. Higher pitched roofs are are often built in areas with cold snowy climates. Sliding sheets of snow and ice is more common because of the steep pitch of the roof. Sliding…

Read More

If you are looking for a Coloma roofing contractor, please call Goody's Roofing Contractors at 920-787-7458 or complete our online request form.