Dependable Plainfield Roofing Contractor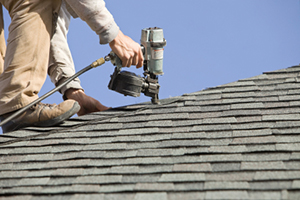 At Goody's Roofing Contractors, we understand that your home is one of the most important investments you'll make in your life, and your roofing is one of the most important parts of your home. Keeping your roofing in great shape is one of the best ways to keep your Plainfield home in excellent condition for a few reasons:
Your roofing is the first line of defense that your Plainfield home has against weather and the elements.
Your roofing is a huge component of your home's resale value and curb appeal.
It can also have a huge effect on your home's energy efficiency.
So when you need any work done on your roofing, you need a professional you can trust with the job.
At Goody's Roofing Contractors, our professional Plainfield roofing contractors are all licensed, professionally trained, and extensively experienced, so we can always guarantee that you'll be working with an expert you can trust. Whether you need in-depth repairs or just a routine inspection, we'll be ready to provide you with high quality workmanship at every single job. We know how important your home is to you and your family, and we'll never take a job lightly.
Call us today with any questions you have about the services we provide, or to schedule your appointment, and we'll be looking forward to working with you.
What Our Plainfield Customers Are Saying About Us
---
Job was well done and the crew was very courteous.
– Ken Plainfield, WI | Rated: 5/5
---
Terrific workmanship.
– Thomas Plainfield, WI | Rated: 5/5
---
Thank you, Goody's Roofing for a great job!
– Gary and Linda Plainfield, WI | Rated: 5/5
---
Recent Articles
Which Roofing Material is Right For Your Home?

When you're having your Wautoma home's roofing replaced, one of the first and most important decisions you'll make is which type of roofing material to use. Your choice should depend on your home's aesthetic style, your budget, and your energy efficiency needs. Since this can't be redone very easily or very cheaply, it's a decision…

Read More

Why You Need Seamless Gutters

No Joints In Seamless Gutters If you've been wondering why seamless gutters are best for your Wautoma home, there are good reasons. Do you have gutters on your home? Are they connected at joints along the roof line? If so, you have seamed gutters. Any type of gutter system is better than having none. Gutters…

Read More

If you are looking for a Plainfield roofing contractor, please call Goody's Roofing Contractors at 920-787-7458 or complete our online request form.