Dependable Plainfield Roofing Contractor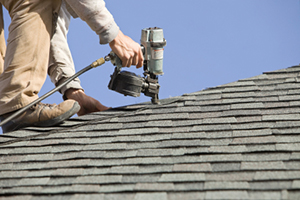 At Goody's Roofing Contractors, we understand that your home is one of the most important investments you'll make in your life, and your roofing is one of the most important parts of your home. Keeping your roofing in great shape is one of the best ways to keep your Plainfield home in excellent condition for a few reasons:
Your roofing is the first line of defense that your Plainfield home has against weather and the elements.
Your roofing is a huge component of your home's resale value and curb appeal.
It can also have a huge effect on your home's energy efficiency.
So when you need any work done on your roofing, you need a professional you can trust with the job.
At Goody's Roofing Contractors, our professional Plainfield roofing contractors are all licensed, professionally trained, and extensively experienced, so we can always guarantee that you'll be working with an expert you can trust. Whether you need in-depth repairs or just a routine inspection, we'll be ready to provide you with high quality workmanship at every single job. We know how important your home is to you and your family, and we'll never take a job lightly.
Call us today with any questions you have about the services we provide, or to schedule your appointment, and we'll be looking forward to working with you.
Plainfield Roofing Repairs
Roofing is what protects your home from weather, the elements, and other threats, but it's also constantly exposed to those things, so your roofing could be damaged at nearly any time. When your roofing does sustain any damages, it can leave other parts of your roofing (and other parts of your Plainfield home) very vulnerable to more damage. So taking care of these problems quickly is extremely important.
Roofing problems can rapidly develop and cause more problems for your home, even if they seem like small, insignificant issues. Leaving any problems with your roofing untreated for any amount of time will only lead to more complicated and more expensive repairs down the line.
Our roofers can handle any problems that you encounter with your roofing, and we guarantee quick, thorough, and accurate Plainfield roof repairs than you can trust.
Plainfield Roofing Inspections
It's very important to repair any roofing problems as soon as possible, but that's not always easy. Often, homeowners won't notice problems with their roofing until they've developed into something as serious as a leak in their living room.
That's why our professional roofing contractors recommend that you have your Plainfield home's roofing inspected at least once every three years. Regular Plainfield roof inspections will help you find any damages that your roof has sustained before they grow into major issues.
Our inspections will always be thorough, and we'll discuss the repairs with you before we begin any work.
What Our Plainfield Customers Are Saying About Us
Goody's Roofing Contractors, Inc. is Rated: 5 / 5
based on these 3 happy customer reviews.
---
"Job was well done and the crew was very courteous."
---
"Terrific workmanship."
---
"Thank you, Goody's Roofing for a great job!"
---
Recent Articles
What Makes Ice Dams On The Roof & What To Do About It

As much as you may like the beauty of winter, it can cause some problems for your roof. When you wake up on a beautiful morning in Wisconsin and see the sparkling icicles hanging from the trees and roof as the sun kisses everything, it can seem so surreal. The fresh snow blanketing the ground…

Read More

Need Roofing Services? You'll Want To Know These Roofing Industry Terms

As roofing contractors in Wautoma, WI who prefer that customers know as much as possible about their roofs, Goody's Roofing Contractors is happy to help you learn some roofing industry terms. This information is very helpful when discussing a roofing service with your contractor. As a homeowner, you should be aware of the products and…

Read More

If you are looking for a Plainfield roofing contractor, please call Goody's Roofing Contractors at 920-787-7458 or complete our online request form.