Licensed Redgranite Roofing Contractors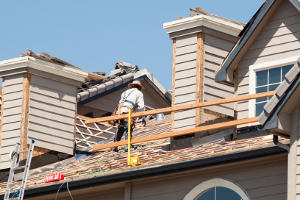 There's no bigger or more important investment you'll make in your life than the one you make in your home, and your roofing is one of the most important parts of your home's structure. Your roofing is the first and most important piece of protection that your home has against weather and the elements, it's a huge part of your home's appearance, and it can have a major effect on your home's energy efficiency. So when you need to have any work performed on your roofing, you need a professional Redgranite roofing contractor you know you can trust with the job.
At Goody's Roofing Contractors, our roofing contractors are professionally trained, extensively experienced, and fully licensed and certified, so you're always guaranteed to be working with a professional that you can trust for high quality craftsmanship. you need in-depth repairs or just a routine inspection, we'll be ready to provide you with high quality workmanship at every single job. We know how important your home is to you and your family, and we'll never take a job lightly.
Call us today with any questions you have about the services we provide, or to schedule your appointment, and we'll be looking forward to working with you.
What Our Redgranite Customers Are Saying About Us
---
Thoroughly and patiently answered all questions by phone and at worksite. Explained roofing process with duration shingles. Able to accommodate specific needs/ conditions at work site.
– Natalie Redgranite, WI | Rated: 5/5
---
Loved a "real person" answering the phone.
– Bernard Redgranite, WI | Rated: 5/5
---
Everything went very smoothly. We appreciate the extra time Jeff spent explaining the job and his business model. We appreciated the daily updates.
– Clark Redgranite, WI | Rated: 5/5
---
Recent Articles
Which Roofing Material is Right For Your Home?

When you're having your Wautoma home's roofing replaced, one of the first and most important decisions you'll make is which type of roofing material to use. Your choice should depend on your home's aesthetic style, your budget, and your energy efficiency needs. Since this can't be redone very easily or very cheaply, it's a decision…

Read More

Top 4 Questions To Ask Wautoma Roofers Before Hiring Them

As a smart homeowner, you want to make the right choice when you need a Wautoma roofer. Hiring a roofer is something you want to treat just like you would to hire someone new at your place of work. Your main focus will be about the answers you receive during the interview and what you…

Read More

If you are looking for a Redgranite roofing contractor, please call Goody's Roofing Contractors at 920-787-7458 or complete our online request form.