Seamless Gutters for Wautoma Homes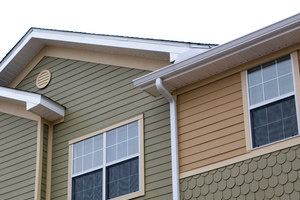 Seamless gutters are installed in one full roll, so there are no breaks can turn problematic if they become damaged. Ordinary gutters will have problems at their seams, where they can be breakage or leaks. This renders your gutters useless, and if you don't have the problem fixed as soon as possible, you could be risking the health of your Wautoma home's foundation. At Goody's Roofing Contractors, our roofing contractors can get rid of these problems for you with the installation of seamless gutters.
If you're considering investing in your home in any way, a seamless gutter installation can be a fantastic addition to any home. Our professionals can make sure your seamless rain gutters are durable, efficient, and properly installed, which will help keep your home less vulnerable to damages that can be caused by poor quality gutter materials, faulty installations, and leaks.
Call us today with any questions that you have about seamless gutters, or to schedule an appointment, and we'll be looking forward to assisting you.
Some of the Benefits of Seamless Gutters Include:
No leaks
Wide Variety
Made-to-Measure
Less Maintenance
Lower Repair Costs
Great Aesthetic Appeal
The Importance of Seamless Guttering
Seamless gutters are made from rolls of pre-formed composite metal. Normally, you can see it as a narrow channel directly attached to the outer edge of the roof. Its primary task is collect any rainwater and distribute it away from the foundation of your Wautoma home, where it any moisture can cause terrible damage. Without gutters, your home is at risk of serious damage.
When you have standard gutters installed, you can easily have leaks or breakage points that allow rainwater to seep into the ground near your home's foundation. Not only will this cause soil erosion, but over time it can greatly weaken your home's foundation.
But seamless gutters don't have any points that are vulnerable to breakage or leaks. By eliminating the seams of the gutters, you eliminate the risk for any of these problems.
Dependable Contractor for Seamless Gutter Installation
Keeping your gutters in great condition is a crucial part of the maintenance of several parts of your home, and it all starts with making sure that they're properly installed. Installing seamless gutters can be a tricky job, but when you count on our professional roofers, you're guaranteed the highest quality workmanship and most professional customer service available.
Our only goal is your complete satisfaction, and we'll do whatever it takes to achieve that. All of our Wautoma roofing contractors are licensed, certified, and extensively experienced. No matter how complicated or simple the job is, we'll always be ready to tackle it promptly and professionally.
Our Wautoma Seamless Gutters Specialists Provide:
Seamless rain gutters
Seamless gutter installation
Seamless guttering
Gutter installation
Gutter replacement
Rain gutter installation
Seamless aluminum gutters
Rain gutters
Gutter repairs
Advanced seamless gutters
Installing gutters
Seamless gutters installation
Recent Articles
Why You Need Seamless Gutters

No Joints In Seamless Gutters If you've been wondering why seamless gutters are best for your Wautoma home, there are good reasons. Do you have gutters on your home? Are they connected at joints along the roof line? If so, you have seamed gutters. Any type of gutter system is better than having none. Gutters…

Read More

If you're in need of seamless gutters in central Wisconsin, call Goody's Roofing Contractors at 920-787-7458 or complete our online request form.