Wautoma Gutter Guard Installation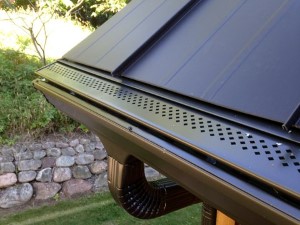 Gutters are one of the most valuable parts of your home, and without them, your roofing is incapable of channeling rainwater properly and your Wautoma home could be seriously damaged during any kind of rainstorm. But gutters can also easily become clogged with leaves, dirt, and other solid debris that build up in the system. This can cause blockage and create a problems with overflow of rainwater.
When your gutters start to overflow, they're rendered virtually useless. Thankfully, however, the professional roofing contractors at Goody's Roofing Contractors can make sure that this is never a problem in your home with our gutter covers. Gutter guards – also called gutter covers – allow rainwater to easily flow into your gutter system while they also block out any large, solid debris. You'll never need to worry about overflow problems again, and you won't be climbing on your roof to clean your gutters out once a month either.
What is a Gutter Cover?
A gutter cover goes over the top opening of your gutters so that only rainwater can pass through the material, where it will then flow directly to your downspouts.
Gutter guards will not let leaves, twigs, seeds, pine-needles, or other debris into your gutters, so you'll never have to clean those things out of your gutters again. These objects will simply dry up and blow away with the next breeze. Gutter covers will also deter birds, squirrels, and insects from creating habitats in your Wautoma home's gutters.
Why Install Our Gutter Guards?
Our gutter guards are designed to shed the maximum amount of water, even during the heaviest of rainstorms.
Our products are available in a wide variety of sizes so that they can fit any home or gutter system.
Our roofing contractors guarantee that you'll receive excellent workmanship and be completely satisfied with all of our products and services.
We are certified LEAFPROOF installers!
Advantages of Gutter Guard Systems
When you rely on the professional Wautoma roofers at Goody's Roofing Contractors, you're guaranteed that your new gutter covers will be installed professionally and properly, and we carry the best gutter cover systems on the market. We can guarantee that you'll never have problems with the installation or the quality of the materials that we provide.
Without a gutter protection system, you need to be vigilant about keeping your Wautoma home's gutters clean. Any accumulated water in your gutters can become a breeding ground for pests like mosquitoes. The debris build-up can also damage the pipelines of your gutter system, which can be expensive and complicated to repair.
Our gutter guards are the best on the market, so you're guaranteed the most functional and effective gutter protection system there is.
Our Wautoma Gutter Guards Experts Provide:
Gutter guard installation
Rain gutter covers
Rain gutter guards
Gutter leaf guards
Gutter protection
Gutter screens
Gutter protection systems
Aluminum gutter guards
Gutter covers
Gutter cover installation
Gutter guard systems
Metal gutter guards
Recent Articles
Which Roofing Material is Right For Your Home?

When you're having your Wautoma home's roofing replaced, one of the first and most important decisions you'll make is which type of roofing material to use. Your choice should depend on your home's aesthetic style, your budget, and your energy efficiency needs. Since this can't be redone very easily or very cheaply, it's a decision…

Read More

Why You Need Seamless Gutters

No Joints In Seamless Gutters If you've been wondering why seamless gutters are best for your Wautoma home, there are good reasons. Do you have gutters on your home? Are they connected at joints along the roof line? If so, you have seamed gutters. Any type of gutter system is better than having none. Gutters…

Read More

If you're looking for gutter guards in central Wisconsin, call Goody's Roofing Contractors at 920-787-7458 or complete our online request form.