Which Roofing Material is Right For Your Home?
---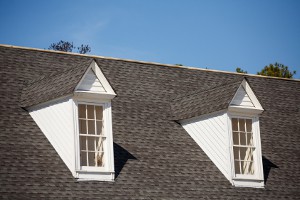 When you're having your Wautoma home's roofing replaced, one of the first and most important decisions you'll make is which type of roofing material to use. Your choice should depend on your home's aesthetic style, your budget, and your energy efficiency needs. Since this can't be redone very easily or very cheaply, it's a decision that requires careful consideration.
The professional Wautoma roofing contractors at Goody's Roofing Contractors can help you make this decision during a roof replacement, but here are a few of the things to keep in mind when you're choosing a roofing material.
Your Home's Architectural Design
First, take a look at how your Wautoma home is built. The angle of your roof–called the "pitch" by professionals–is the most important factor to consider here. An important function of your roof is shedding water, and the pitch helps out with with that.
Some roofing materials will shed water more easily, and some less. But if you have a greater pitch, you won't need that extra help.
Also look for any pipes or chimney that come out of your roof, and for any roof intersections, or places where two downward angles of the roofing meet. These things tend to make the job a little harder, and can make it more expensive, so it's important to take note of them when you're working out your initial budget for the job.
The Aesthetic Design of Your Home
Also consider how the roofing material you choose will match the existing aesthetic style of your Wautoma home. It might not be a good idea, for instance, to put cedar shakes on a southern colonial home. But cedar shakes can provide an excellent rustic feel to your home and will work well many different architectural styles.
Asphalt shingles, on the other hand, will work with almost any type of architecture. And speaking of asphalt shingles, you should also consider…
Cost and Efficiency
Asphalt shingles are the cheapest of all roofing materials, which is part of why they're so popular. Cost is one important factor in your decision, and depending on your budget, it can increase it importance.
But remember that some cheaper materials won't last as long as more expensive ones. So you may end up saving money in the long run by spending more up-front.
Asphalt shingles will cost less upfront, but need more repairs than other materials, although these repairs are typically cheaper than they'd be for other materials. And metal roofing, for instance, will cost you more upfront, but rarely need any repairs or maintenance, and can last a lifetime.
Overview of Roofing Materials
Asphalt shingles have a shorter lifespan than most Wisconsin roofing materials, but they're also inexpensive and easy to replace. If you're on a budget, they're probably your best choice.
Cedar shakes are more expensive but can last for up to 30 years. They can be stained or painted, and depending on the home, they can be very attractive.
Concrete tile is increasing in popularity. It's very durable, long-lasting, and can help with the energy efficiency of your home.
If you're looking for a roofing contractor in Wautoma, call Goody's Roofing Contractors at 920-787-7458 or complete our online request form.