In Need of a Hancock Roofing Contractor?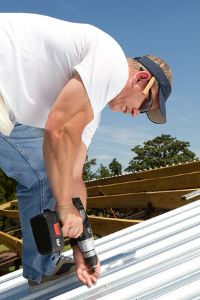 Your roofing is one of the most important parts of your home, and keep it in excellent condition is one of the most important ways to keep your home well-maintained. Your roofing is the first and most important piece of protection that your home has against weather and the elements, it's a huge part of your home's appearance, and it can have a major effect on your home's energy efficiency. So when you need any work done on your roofing, you need a Hancock roofing contractor you can trust to get the job done right.
At Goody's Roofing Contractors, all of our roofing contractors are licensed, professionally trained, and extensively experienced, and we've been providing roofing services to homeowners in the Hancock area since 1993. Whether you need to have a single shingle replaced or you need a full roof replacement, we'll be ready to ensure that you're receiving the highest quality roofing services possible. We understand how important your home is to you and your family, and we'll always strive to make sure that you're completely satisfied with all of the work we provide.
Call us today with any questions you have about the services we provide, or to schedule your appointment, and we'll be looking forward to working with you.
What Our Hancock Customers Are Saying About Us
---
They did an excellent job. Everyone knew their job and did it well. Any company would be proud to have these men work for them. Their job was their priority.
– Paul Hancock, WI | Rated: 5/5
---
We are very happy with our new roof and the service Goody's Roofing gave us. We really appreciate the wonderful job that was done of cleaning up all the roofing materials. Thank you very much!
– Steve & Linda Hancock, WI | Rated: 5/5
---
Recent Articles
What Makes Ice Dams On The Roof & What To Do About It

As much as you may like the beauty of winter, it can cause some problems for your roof. When you wake up on a beautiful morning in Wisconsin and see the sparkling icicles hanging from the trees and roof as the sun kisses everything, it can seem so surreal. The fresh snow blanketing the ground…

Read More

Which Roofing Material is Right For Your Home?

When you're having your Wautoma home's roofing replaced, one of the first and most important decisions you'll make is which type of roofing material to use. Your choice should depend on your home's aesthetic style, your budget, and your energy efficiency needs. Since this can't be redone very easily or very cheaply, it's a decision…

Read More

If you are looking for a Hancock roofing contractor, please call Goody's Roofing Contractors at 920-787-7458 or complete our online request form.