Snow Retention Systems in Wautoma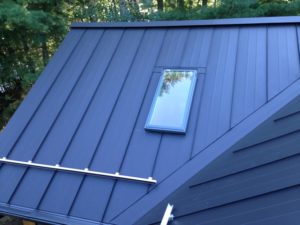 A snow retention system helps to protect your roofing during the winter months. When snow and ice accumulate on the roof, gravity pulls them down and they'll slide along the slope of the roof, causing a number of different problems. Snow retention systems hold that snow in place so that it won't shed from the roofing until it's melted.
Snow retention systems come in several different types of styles and designs, and they can be designed for both functionality and appearance. Functionally, these systems are designed for the different types of roofing materials that are used on home in the Wautoma area. Aesthetically, they're designed to coordinate with different architectural styles and the personal preferences of homeowners.
The professional Wautoma roofers at Goody's Roofing Contractors can help you decide on the perfect model of snow retention for your home, then we can install it perfectly so that you're as protected as possible.
Benefits of Snow Retention Systems
Help avoid costly insurance claims due to an avalanche of snow and ice
Help prevent ice dams at the edge of the roof
Help prevent damage to gutters
Many styles and designs available to fit any number of different roofs
Snow retention systems are used to protect landscaping around the building, to protect gutter systems around the edge of the building, and to keep snow from piling up either on a lower roof level or on decks, sidewalks, and at garage entrances.
Do You Need a Snow Retention Device for Your Roof?
Whether or not you need a snow retention system is largely dependent on what type of roofing material you have on your Wautoma home. For example, if you have asphalt roofing, it probably has enough grip to keep to hold on to the snow. As long as the slope is moderate, most asphalt shingle roofs do not need any kind of snow retention system.
A metal roof, on the other hand, has a very smooth surface, so the snow has very little to grip onto and will begin to slide off, even if the slope of the roof is very low.
The "pitch" of your roof is another thing to consider. Put simply, the pitch is the relative steepness of your roof's slope. A higher pitched roof has a steeper angle, so it will need more help keeping snow from running off.
Our Professional Roofing Contractors
All of our roofing contractors are licensed professionals with extensive training experience. We offer a large variety of options when it comes to snow retention systems, and we can tailor your snow retention system to the needs of your Wautoma home.
Snow retention systems can help save you thousands of dollars in repairs, and our professionals can help. We use S-5!® Snow Retention Products; they are the preferred snow retention product for metal roofs, as there is no adhesive.
Our Wautoma Snow Retention Experts Provide:
Snow retention systems
Snow retention devices
Snow retention rails
Roof snow retention
Snow rails for metal roofs
Snow guards for metal roofs
Metal roof snow guards
Metal roof snow stops
Snow guards
Snow stops for metal roofs
Snow stoppers for metal roofs
Snow retention systems metal roofing
Recent Articles
Snow Retention Systems For Wautoma Roofs

As snow and ice builds up on a roof, it can slide down and fall on buildings, landscaping, building components, people, pets, or livestock. Higher pitched roofs are are often built in areas with cold snowy climates. Sliding sheets of snow and ice is more common because of the steep pitch of the roof. Sliding…

Read More

What Makes Ice Dams On The Roof & What To Do About It

As much as you may like the beauty of winter, it can cause some problems for your roof. When you wake up on a beautiful morning in Wisconsin and see the sparkling icicles hanging from the trees and roof as the sun kisses everything, it can seem so surreal. The fresh snow blanketing the ground…

Read More

If you're looking for a snow retention system in central Wisconsin, call Goody's Roofing Contractors at 920-787-7458 or complete our online request form.