Looking for a Berlin Roofing Contractor?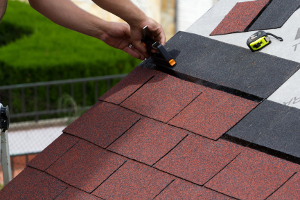 There's no more important part of your home's structure than the roofing, and keeping your roof in great shape is one of the best ways to ensure that the rest of your home is able to stay in good condition. Your roofing is the first line of defense that your Berlin home has against all sorts of weather, the elements, and other threats, and it's a big part of your home's energy efficiency and appearance as well. So when you need to have your home's roofing worked on in any way, it's very important that you hire a Berlin roofing contractor you now you can trust with the work.
At Goody's Roofing Contractors, all of our professional roofing contractors are licensed professionals with extensive training and experience, so we can always guarantee the best possible workmanship and roofing services. Whether you need in-depth repairs, a full roofing replacement, or just a replacement shingle, our professionals will make sure you get the highest quality roofing services possible. We know what an important part of your home your roofing is, so we always take our responsibilities very seriously.
Give us a call today to ask any questions you have about the services we provide, or to schedule your appointment, and we'll be looking forward to assisting you.
Recent Projects In Berlin
New Roof Installation In Berlin
Recent Articles
8 Things You Might Not Know About Metal Roofing

Metal roofing is rapidly growing in popularity among Wautoma homeowners, most likely due its durability, low-maintenance, and low cost. It's perfect for any home or commercial building, and our metal roofing contractors can make sure it's properly designed and installed. Still, asphalt shingles remain the most popular choice of roofing material across the nation. Asphalt…

Read More

Top 3 Reasons Homeowners Choose Spray Foam Insulation

Before making any decisions about your home, it is important to be informed about your options. This is no different when it comes to spray foam insulation. There are plenty of great reasons you should add this to your home but you need to know these reasons in order to make the right choice for…

Read More

If you are looking for a Berlin roofing contractor, please call Goody's Roofing Contractors at 920-787-7458 or complete our online request form.