Wautoma Roof Repair Specialists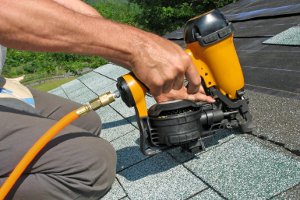 Your home's roof is responsible for protecting the entire structure of your home and maintaining its well-being. It's your first line of defense against moisture damage, which could easily seep into the ground near your Wautoma home's foundation, causing the foundation to start to rot. It helps shed water away from your walls, which could otherwise become covered in mold and mildew growth. So when you need work done on your roof, you need a roof repair specialist you're certain can take care of the job.
Whether you have a missing shingle or need an entire roof replacement, our roof repair specialists will ready and eager to tackle the job. Goody's Roofing Contractors has been working in the area since 1993, and we specialize in roof repairs. We've built our reputation on always providing our clients with thorough, accurate repairs and friendly, professional service.
All of our Wautoma roofing contractors are licensed, experienced, and professionally trained, so we can guarantee a quality job with accurate and thorough results. We know how important your roofing is to your home, and how important your home is to you and your family, so we'll do whatever it takes to make sure it's in the best condition possible before we've completed our job.
Call us today and we'll be glad to schedule your appointment, or to answer any questions you have about the services we provide.
Residential Roof Maintenance
Most roofing problems go unnoticed when they initially occur, and a professional roof repair contractor won't be called in until they've turned into much larger, much more expensive repairs. Catching problems early can cut down a lot on the cost of repairs, but it's not always easy. The average Wautoma homeowner won't notice that their roof is damaged until it's a major problem.
If you suspect your roof has sustained damages during a storm, call a professional for a roof inspection. We can make sure there are no looming problems that will turn into bigger problems. We offer free estimates, and we'll discuss all problems with you in plain English so that you can decide how to move forward.
Common Roofing Problems
Roofing problems aren't always obvious to homeowners, but fortunately, our roofing contractors will be able to find any hidden signs that your Wautoma home's roofing is suffering any structural damages. Some of the most common roofing repairs are caused by:
Exposed nail heads
Slipped shingles
Prior faulty repairs
Loose flashing
Hail damage
Cracking
Any of these problems could occur at any time, and your roofing may still seem fine to the untrained eye. But these problems will quickly grow into much more serious issues. If you believe your roofing may have been damaged at any time, it's very important to have it repaired as soon as possible so that no other problems develop as a result.
Our Wautoma Roof Repair Contractors Provide:
Emergency roof repairs
Leaking roof repairs
Flat roof repairs
Metal roof repairs
Roofing repairs
Roof repair estimates
Residential roof repairs
Roof replacements
Roof leak repairs
Roof installations
Leaky roof repairs
Roof inspections
Recent Articles
Top 4 Questions To Ask Wautoma Roofers Before Hiring Them

As a smart homeowner, you want to make the right choice when you need a Wautoma roofer. Hiring a roofer is something you want to treat just like you would to hire someone new at your place of work. Your main focus will be about the answers you receive during the interview and what you…

Read More

Need Roofing Services? You'll Want To Know These Roofing Industry Terms

As roofing contractors in Wautoma, WI who prefer that customers know as much as possible about their roofs, Goody's Roofing Contractors is happy to help you learn some roofing industry terms. This information is very helpful when discussing a roofing service with your contractor. As a homeowner, you should be aware of the products and…

Read More

If you're looking for quality roof repairs in Wautoma, call Goody's Roofing Contractors at 920-787-7458 or complete our online request form.