Almond Roofing Contractor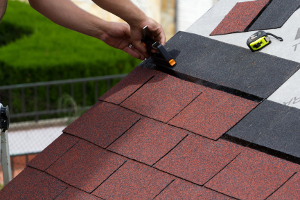 There's nothing more important to your home's exterior than its roofing, and keeping that roofing in great condition is a great way to keep many other parts of your home in good condition. Your roof is the first piece of protection that your home has against weather and the elements, and your roofing also has a huge effect on the energy efficiency of your home. Because of that, it's very important that any time you're having work performed on your Almond home's roofing, you hire a professional you know you can trust with the job.
At Goody's Roofing Contractors, Inc., all of our roofing contractors are licensed, professionally trained, and extensively experienced, so we can always guarantee that you'll be receiving high quality roofing work. We know that your home is extremely important to you and your family, and we know that your roofing is an extremely valuable part of your home, so we'll always do whatever it takes to keep it in the best condition possible.
Call us today if you need any roofing work done, and we'll always be ready and eager to tackle the job.
Recent Articles
Snow Retention Systems For Wautoma Roofs

As snow and ice builds up on a roof, it can slide down and fall on buildings, landscaping, building components, people, pets, or livestock. Higher pitched roofs are are often built in areas with cold snowy climates. Sliding sheets of snow and ice is more common because of the steep pitch of the roof. Sliding…

Read More

Which Roofing Material is Right For Your Home?

When you're having your Wautoma home's roofing replaced, one of the first and most important decisions you'll make is which type of roofing material to use. Your choice should depend on your home's aesthetic style, your budget, and your energy efficiency needs. Since this can't be redone very easily or very cheaply, it's a decision…

Read More

If you're looking for a roofing contractor in Almond, call Goody's Roofing Contractors, Inc. at 920-787-7458 or complete our online request form.