Soffit and Fascia Installation in Wautoma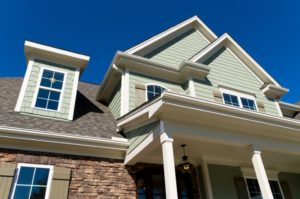 The soffit and fascia are two of the more lesser-known features of your roof. Nevertheless, they're just as important to your Wautoma home and your roofing as its shingles, sheathing, and flashing. Located at the end of your roof's overhand, the soffit and fascia protect the wood from weather and moisture.
Fascia and soffit can be made from vinyl and aluminum, both of which are maintenance free and never need painting.
The professional Wautoma roofers at Goody's Roofing Contractors can install, repair, or provide maintenance for your soffit and fascia, and we can guarantee that these systems will be kept in excellent condition at all times.
What is the Soffit?
The soffit is the layer of wood, vinyl, or aluminum that extends from the bottom of the fascia to the top piece of your wall board. Depending on the age and the architecture of your Wautoma home, it may have actual vents or gaps in the boards to protect the ventilation of your attic.
What is the Fascia?
The fascia is usually hidden behind your gutters. It's the board that makes up the end of your roof. The fascia ties your eaves together and is the foundation of upon which your gutters are built.
The fascia works together with your soffit to help provide your attic with the insulation that needs, which can have a major impact on your Wautoma home's energy efficiency.
Benefits of Soffit and Fascia Repairs
Improve your attic ventilation (helps to regulate your heating and cooling year-round)
Reduced energy consumption
Improved structural integrity
Give your roofing a longer lifespan
Better protection from rodents, insects, weather, etc.
Signs that Your Soffit or Fascia Need Repairs
Your fascia or soffit may need repairs if you notice any of the following:
Leaking gutters
Rotting or sagging wood or roof ends
Damp patches on your interior walls
These signs can point to serious problems, and those problems will only get worse the longer they are left untreated. Call our professional roofers today if you've noticed any of these problems, and we'll be ready to give your Wautoma home's roofing the care that it needs.
Importance of Soffit and Fascia Services
Because of the important role that your soffit and fascia play in your Wautoma home's protection from weather elements throughout the year, it's very important that they're both kept in excellent condition year-round. Because of the snow and ice that we receive in the winters, as well as the hot and dry weather that we can get in the summertime, your roof can take quite a beating throughout the year. Making sure that your soffit and fascia are kept in excellent condition will help you keep your roofing – and the rest of your home – in great condition as well.
Our Wautoma Soffit and Fascia Contractors Provide:
Soffit and fascia installation
Soffit and fascia replacement
Soffit and fascia repair
Vinyl soffit and fascia
Soffit repair
Fascia repair
Soffit fascia installation
Soffit installation
Vinyl soffits
Roof fascia
Soffits
Fascias
Recent Articles
8 Things You Might Not Know About Metal Roofing

Metal roofing is rapidly growing in popularity among Wautoma homeowners, most likely due its durability, low-maintenance, and low cost. It's perfect for any home or commercial building, and our metal roofing contractors can make sure it's properly designed and installed. Still, asphalt shingles remain the most popular choice of roofing material across the nation. Asphalt…

Read More

Top 4 Questions To Ask Wautoma Roofers Before Hiring Them

As a smart homeowner, you want to make the right choice when you need a Wautoma roofer. Hiring a roofer is something you want to treat just like you would to hire someone new at your place of work. Your main focus will be about the answers you receive during the interview and what you…

Read More

If you're looking for soffit and fascia services in Wautoma, call Goody's Roofing Contractors at 920-787-7458 or complete our online request form.