Wautoma Standing Seam Metal Roofing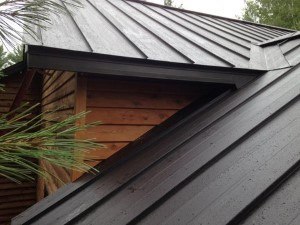 Standing seam metal roofing is the best way to provide your home with both beauty and protection. This type of roofing will provide your home with more protection than any other roofing materials, it requires less maintenance than other roofing, and it can be designed to have the appearance of several different types of roofing materials, so you'll be able to find the perfect kind of roofing for your Wautoma home.
At Goody's Roofing Contractors, our standing seam meta roofing uses top quality Galvalume. We can provide you with a high quality installation services from our Wautoma roofing contractors.
Benefits of Standing Seam Metal Roofs
The vertical lines of the roofing design draw attention to the beauty of your home while protecting it from weather with smooth, long-flowing panels.
Standing seam metal roofing will help to lower your monthly energy costs. Special coatings don't just add beauty, but they also reflect sunlight, which lowers your cooling costs.
The roofing has a long lifespan.
It's available in several different colors and designs.
This is the perfect roofing option for any cabin, cottage, home, or other dwelling.
Standing Seam Metal Roof Installation & Design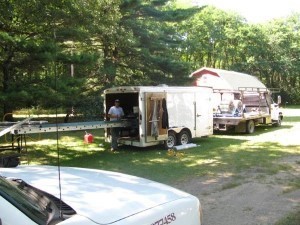 Standing seam metal roofing has become an architectural element of homes that can be a distinctive and highly effective form of roofing for your Wautoma home. As long as it is properly installed, metal roofing will require virtually no maintenance, plus it's completely fire-resistant and can last for as long as the home that it's installed on.
Installing a standing seam metal roof involves joining vertical interlocking panels from the top of the roof (the ridge) to the roof's eave (the edge of the roofing). The area where each panel joins the next is raised above the roof's flat surface to allow water to safely run off without leaking into and between the panels.
The roofing will also be installed with a hidden-fastener system, so no rivets or screws are exposed on the surface of the panels. This roofing can be installed on a new construction, or it can be applied to an existing roof. All trims and caps are designed to ensure an integrates, weather-proof roof.
The Difference is in The Details
We offer different designs, including mechanically fastened, hidden fastener snap-lock, hidden fastener mechanically seamed single-lock, and hidden fastener mechanically seamed double-lock. Standing seam roofing is also available in a variety of colors. Difference in cost of metal roof is greatly based on roof details: skylights, chimneys, valleys, ridge vents, dormers, sidewall flashing, and other penetrations.
Environmentally Friendly Metal Roofing
All metal roofing is generally considered a "cool roof" by the US Environmental Protection Agency. Because metal roofing can be painted any color, including colors on the lighter end of the spectrum, metal roofing can prevent solar heat gain in your Wautoma home. The color of the roof will reflect heat, so less heat is absorbed by the house, which means that your energy costs will be lower and you'll be conserving resources.
Our Wautoma Metal Roofing Contractors Provide:
Metal roofing materials
Residential metal roofing
Metal roofing systems
Metal roof installation
Metal roof panels
Standing seam metal roofs
Metal roof
Sheet metal roofing
Standing seam roofing
Metal roofing
Standing seam metal roof installation
Residential standing seam metal roofs
Recent Articles
What is an Ice Dam and How Will it Hurt My Roofing?

An ice dam is ridge of ice that forms along the edge of a roof, creating a literal dam that prevents your Wautoma home's roof from shedding water and snow. Ice dams can prevent snow from draining off of your roof as it melts. As the water rests at the edge of the ice dam…

Read More

Which Roofing Material is Right For Your Home?

When you're having your Wautoma home's roofing replaced, one of the first and most important decisions you'll make is which type of roofing material to use. Your choice should depend on your home's aesthetic style, your budget, and your energy efficiency needs. Since this can't be redone very easily or very cheaply, it's a decision…

Read More

If you're looking for standing seam metal roofing in central Wisconsin, call Goody's Roofing Contractors at 920-787-7458 or complete our online request form.