Spray Foam Insulation Experts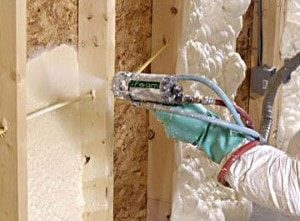 As a homeowner, it is important to feel as though you are making good choices. Being informed about choices that you have, such as spray foam insulation, is important.
This option for insulation is becoming more popular and is often the preferred choice over alternative methods. Become an informed consumer and savvy homeowner by learning more about the benefits of this insulation.
Let the Experts Help
At Goody's Roofing Contractors, Inc., our spray foam insulation experts work hard to meet and exceed the needs of our clients. This includes not just installing spray foam insulation but first helping our clients understand why this is a wise approach to take.
The expansive nature of spray foam means this style of insulation has better coverage. It is able to be applied to nooks and crannies that traditional insulation tends to miss.
This approach to insulating a home is the most effective when it comes to being energy-efficient. In fact, it has been shown to provide as much as 50% or more when it comes to energy savings, and when compared to other methods of insulating.
This type of insulation is impermeable to water. Standard insulation can easily be ruined by moisture and this type is not affected. The good news is that also means it can deter mold and bacteria.
Spray foam insulation also has a longer lifespan. It can last for about 20 years without the need to re-insulate making it a wiser investment.
Want to learn more? Contact our team of experts for additional information or to go ahead and request installation of spray foam insulation for your home or business.
If you're looking for professional roofing contractors for spray foam insulation in central Wisconsin, call Goody's Roofing Contractors at 920-787-7458 or complete our online request form.